Christmas is almost here, and by now you are thinking about your Christmas mani and pedi.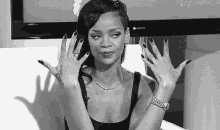 Good news! There are many different colours that you can choose from this holiday season. And you can use one colour or mix it up. Remember, everything goes this Christmas, so it's all about how 'festive' you make your nails.
BUZZ fam, throw on glitter, add some characters, and use those bright colours, because if anything, Christmas is an excuse to overindulge.
Luckily, we have nail technician and owner of Bella's Beautique, Annabel Glaze to guide you. Glaze has for two Christmas seasons now created her own collection of seasonal nail polish. And she has also been working as a nail tech for more than 13 years.
Bright colours
Here in the Caribbean, our Christmas isn't cold, and dark; it's bright and sunny and windy. So the colour you choose for your nails should reflect that.
"We are a tropical country, so in Jamaica, we don't exactly fit into the seasonal colours. In my collection, I'll always do pops of colours to represent our culture and just the fact that we are sun all year round," Glaze told BUZZ.
Use dark winter colours such as dark grey and dark blue-green. But add pops of colour either on different nails or on top of those colours to give it that Caribbean flair.
Add Christmas characters to your nails
Those Christmas characters according to Glaze, are anything that gets you sentimental about the holidays.
"You can paint characters that are synonymous with Christmas. I know snowflakes aren't Caribbean Christmas, but they are beautiful and everyone associates it with Christmas. You can also just use characters that are sentimental to your Christmas. These characters can be added on top of different nail colours," Glaze shared.
Guess that is Christmas cake for me! What reminds you of Christmas the most BUZZ fam?
Sweater Technique
Turns out your comfy Christmas sweater can do more than just keep you warm, it can also be the inspiration behind your next nail technique.
"The sweater technique is trending right now. It makes your nails look like they're wearing a tiny sweater. You'll use a dotting tool to apply gel nail polish in a cable pattern on the nail, and then reapply to get that 3D effect," she said.
Traditional red or green nail polish
Red and green nail polishes are Christmas classics. So go ahead and use them, but jazz it up a little.
"Most people use the colour of the season which is red, and green. But add some glitter for flair. Once you have glitter, green and red, you're good for the season," she said.