It's official. Samsung just showcased the new Galaxy Z Flip smartphone.
The Z Flip is Samsung's second attempt at a foldable phone, and this one seems better in every way. From the screen to the chipset, this stylish device ticks many spec boxes and does so with flair and style. Motorola's new Razr has a worthy rival.
Let's start with the display. It's a 6.7-inch Dynamic AMOLED panel with 2636 x 1080 resolution. That translates to a peculiar 21.9:9 aspect ratio. New this year is Samsung's Ultra-Thin Glass (UTG), instead of the plastic screen tech on the Galaxy Fold. Samsung has avoided the notch yet again with a centre mounted hole-punch display like all the S20 phones. Externally, there's a tiny 300 x 112 cover display used for notifications and minor interactions when the device isn't open.
All that screen goodness means nothing without a sturdy hinge supporting it.
The success of the Galaxy Z Flip "hinges" on whether Samsung created a durable swivel system. 😁And, I'm happy to say, this seems like the best folding phone hinge yet. At the core of the new device is a "Hideaway Hinge". Samsung hid the gears and all other movable parts under shiny prismatic plastic. That's probably to avoid dust or other particles from damaging the interior.
There are also built-in nylon bristles to keep dirt and debris out of the phone. Clever. Also, the hinge allows the Z Flip to stay open at different angles like a laptop. In "Flex Mode" Samsung and Google created a unique experience by splitting the UI into two 4-inch screens. So, users can see content above while manoeuvring below.
For content creation, Samsung packed three cameras into the Galaxy Z Flip. It has a 10MP selfie camera and two 12MP sensors on the rear with one being an Ultra-Wide with the other a standard wide-angle camera. There's no 8K video recording on the Z Flip.
Instead, you can shoot 4K up to 60fps. You can also take selfies with the primary camera, using the tiny external cover display as a viewfinder when the phone is closed.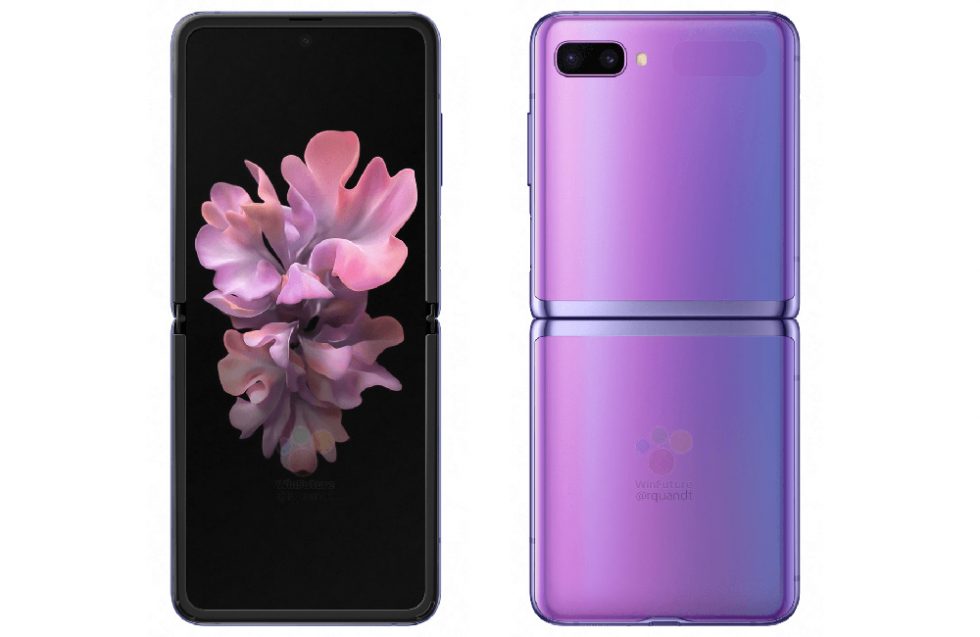 Inside the Z Flip is a Snapdragon 855+ chipset from last year. That's coupled with 8GB RAM and 256GB storage. Power comes from a 3300mAh dual battery. All these hardware powers Android 10 with Samsung's One UI 2 skin on top.
Unlike the S20 series, there's no in-display fingerprint sensor on the Z Flip. Instead, Samsung opted for a side-mounted, capacitive fingerprint sensor, much like last year's Galaxy S10e.
Specifications aside, Samsung made a few partnerships to enhance the Z Flip experience.
Samsung partnered with Google to integrate Google Duo into the Z Flip's Contacts, Messages and Phone Apps. There is also similar integration with all the S20 phones. That means Samsung users will be able to communicate with other users from native apps, much like iPhones. They also partnered with Thom Browne New York to create fashionable variants of the Z Flip, Buds+ and Samsung smartwatches.
In conclusion, the Z Flip seems more robust than the Galaxy Fold. That's great because users can have more confidence that this new phone isn't another fragile mess waiting to be recalled, re-engineered and re-released. It even seems more durable and is definitively more potent than the 2019 Motorola Razr.
If you love the Galaxy Z Flip, they'll be available for purchase on February 14 in the USA and Korea. Prices start at US$1,380 for the Mirror Purple and Mirror Black variants. A Mirror Gold colour will follow shortly.